Polymax TRail® EN 45545 Rubber Compound | Polymax UK
Call us today on +44 (0)1420 550700 or email sales@polymax.co.uk

TRail® marks a considerable achievement for the company as it was developed by our in-house chemist team and independently tested by a recognised third-party test house. The EPDM elastomer is fully EN 45545 certified, a European Standard that defines the fire safety testing for materials and components installed on railway vehicles. The challenge was to formulate a compound that demonstrated low flammability, smoke omission and toxicity. The EN 45545 approved TRail® is suitable for use in any enclosed environment where fire safety is a primary concern. The elastomer is currently available as a rolled sheeting and extruded profile, making it ideal for gasket cutting and custom seals. The Polymax team are delighted to seize this opportunity and serve the transportation sector as a trusted EN 45545 manufacturer and supplier.

EN 45545-2:2013 & A1:2015
A regulation set out by the European Union to standardise the fire testing of materials used in railway applications. In 2013 it became the national standard comprising several regulations into one classification system. The EN 45545 classification is required for materials used in the following areas – Interiors (IN), Exterior Located (EX), Furniture (F), Electrotechnical Equipment (E) and Mechanical Equipment (M). Vehicles are classed by the hazard level of their day to day operation. HL1 as the lowest hazard level, HL2 for mid-range and HL3 as the highest. To summerise, the standard aims to limit spread of fire should an ignition occur, allowing passengers and staff to reach a place of safety.
Why Use Halogen Free Low Smoke Compounds?
About 50% of fire casualties are due to inhalation of smoke and other gases produced during a fire
Toxic and corrosive smoke generated by halogenated polymers has long term environmental impact
EN 45545 rubber compounds have:

1) low flame propagation
2) low smoke generation
3) low emission of toxic gases.
The Polymax Process
Our sales engineers are available to meet in person or though conference consultations. They will offer the best process solution for your requirements. Our standard procedure is illustrated in the graphic below: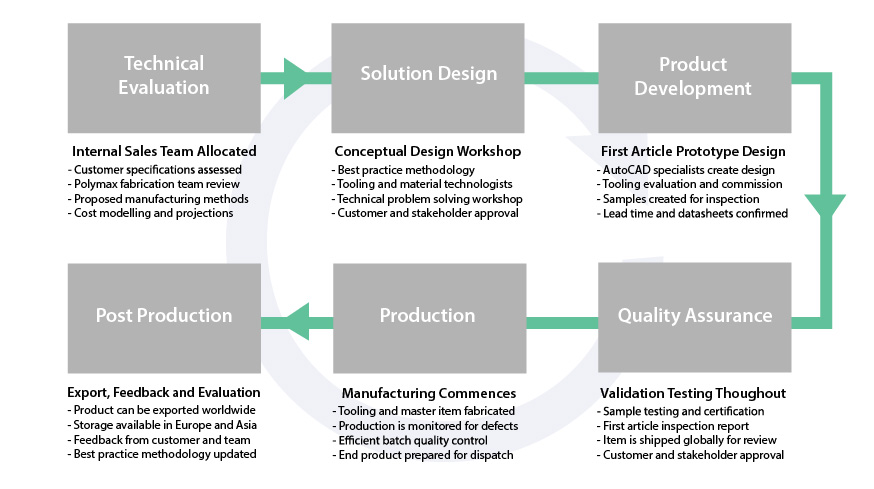 Rolling Stock Operation Categories
The following tables will show how the operation categories are organised according to their vehicle type and day to day operations.


Polymax TRail® EPDM
Our R10 compound is suitable for use as a floor composite. Whilst our R22/R23 approved compounds can be moulded into sponge seat coverings, window seals, door joints, panel connectors and pipes or hoses.


EN 45545 | Why Choose Us
The Polymax team across the UK, Europe and India offer extensive knowledge in rubber technology. Think of us as your partners, supporting you to the best solution for your needs. Contact one of our sales engineers for free unbiased advice concerning your application. Call us today on +44 (0)1420 550700 or email sales@polymax.co.uk.