O-ringen van siliconen of fluorocarbon met een naadloze FEP ommanteling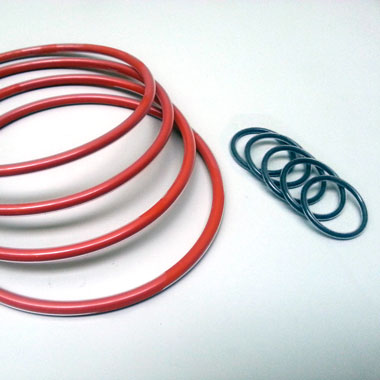 FEP is een thermoplastisch materiaal, qua eigenschappen vergelijkbaar met PTFE. Naadloos ommantelde FEP-O-ringen hebben een elastische kern van FPM of VMQ. FEP is ook vaak Teflon® genoemd, F.E.P. (Fluorinated - ethylene - propylene).
Zij worden bij zeer hoge thermische en chemische belastingen toegepast. De extreem hoge chemische resistentie van de ommanteling beschermt het elastische materiaal van de kern tegen de aantasting door het toegepaste medium.
Een ander voordeel van de ommanteling is de zeer geringe wrijvingscoëfficiënt. Daardoor wordt de combinatie van hoge chemische- en thermische belastbaarheid met de elastische eigenschappen van de standaard elastomeren bereikt.
Op het moment staat dit materiaal in onze online webshop, voor meer informatie kunt u ons bellen 070 2500606
FEP Viton (or FPM) temperatuur waaier -20°C to 204°C
FEP Siliconen temperatuur waaier -60°C to 204°C
Het materiaal van de kern wordt gekozen afhankelijk van de toelaatbare temperaturen en het toe te passen medium. De montage vereist bijzondere zorg door de beperkte vervorming van dit materiaal. Door verwarming in heet water of hete olie van ca. 80°C tot 100°C wordt de flexibiliteit verhoogd en hiermee de montage gemakkelijker.
Worden vaak gebruikt met::
Chemicale Productie en verwerking
Olieextractie (on shore and off shore)
Petrochemicale
Farmaceutisch Productie
Voedsel en drank Food Productie
Cosmetisch en Parfumerie
Automobiele Componenten
Ruimtetechniek
Waar FDA goedkeuring nodig is
Not geschikt voor:
Voor installaties waar de o-ring veel moet worden uitgerekt.